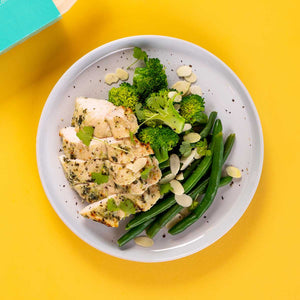 Lean Chicken: Light
Regular price $11.95 Sale
Lean, poached chicken breast, fresh crunchy greens and a sprinkle of almond flakes, it doesn't get much healthier than this! High protein, low carb, low calorie and keto friendly, the Lean Chicken is a must have. Your body will love you!

Chicken Breast, Olive Oil, Italian Herbs Paste(Fresh Herbs 46%(Basil, Oregano, Parsley, Rosemary) Dextrose, Canola Oil, Acidly, Regulators (Sodium, Lactate, Acetic Acid, Citric Acid) Whey (Milk) Humectant (Glyceryl) Sea Salt, Antioxidant(Ascorbic Acid) Glucose, Thickener (Xent Gum) Parsley Paste (Fresh Oregano, Parsley (47%) Organic Dextrose Whey(Milk), Organic Canola Oil, Acidity Regulators(Sodium Lactate Citric Acid, Sea Salts, Antioxidant(Ascorbic Acid) Thickener(Xanthan Gum) Garlic, Salt, White Pepper Ground. Broccoli, Beans, Almonds.
GFF
Contains: Tree Nuts, Milk
Made on equipment that also processes gluten, milk, soy, crustacean, peanut & fish products.
Heating: Remove meal from sleeve, pierce film and place in microwave on HIGH for 90 - 120 seconds.
Storage: Please keep refrigerated between 0-5 degrees. 
See label for expiry date. Meals last 3-7 days refrigerated.*
*Meal shelf life, varies between 3 or 7 days depending pickup locations. All delivered meals last 7 days.
AVG QTY
PER SERVE 205g
AVG QTY
PER 100g
Energy (kJ)
1105
539
Calories
264
129
Protein (g)
28
14
Fat (g)
14
7
Carbohydrates (g)
5
2
Sugars (g)
4
2
Sodium (mg)
553
270