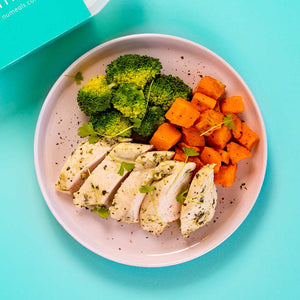 Clean Chicken: Light
Regular price $11.95 Sale
It doesn't get much cleaner than this! Keep that Summer body with our most popular dish. Make no mistake, our chicken is tender enough to make eating clean a breeze. Served with our steamy broc with a side fluffy sweet potato.
We know that eating clean doesn't mean eating bland, the summer flavours of rosemary and seas salt will make even a deep fried lover wanna give this dish a cheeky go. 
Chicken Breast, Olive Oil, Italian Herbs Paste(Fresh Herbs 46%(Basil, Oregano, Parsley, Rosemary) Dextrose, Canola Oil, Acidly, Regulators (Sodium, Lactate, Acetic Acid, Citric Acid) Whey (Milk) Humectant (Glyceryl) Sea Salt, Antioxidant(Ascorbic Acid) Glucose, Thickener (Xent Gum) Parsley Paste (Fresh Oregano, Parsley (47%) Organic Dextrose Whey(Milk), Organic Canola Oil, Acidity Regulators(Sodium Lactate Citric Acid, Sea Salts, Antioxidant(Ascorbic Acid) Thickener(Xanthan Gum) Garlic, Salt, White Pepper Ground. Sweet Potato, Olive Oil, Rosemary, Sea Salt. Broccoli.
GFF
Contains: Milk
Made on equipment that also processes gluten, milk, soy, crustacean, peanut & fish products.
Heating: Remove meal from sleeve, pierce film and place in microwave on HIGH for 90 - 120 seconds.
Storage: Please keep refrigerated between 0-5 degrees. See label for expiry date. Meals last 3-7 days refrigerated.*
*Meal shelf life, varies between 3 or 7 days depending pickup locations. All delivered meals last 7 days.
AVG QTY
PER SERVE 230g
AVG QTY
PER 100g
Energy (kJ)
1318
573
Calories
315
137
Protein (g)
28
12
Fat (g)
12
5
Carbohydrates (g)
20
9
Sugars (g)
9
4
Sodium (mg)
794
345